Vegetables Unleashed Thanksgiving Feast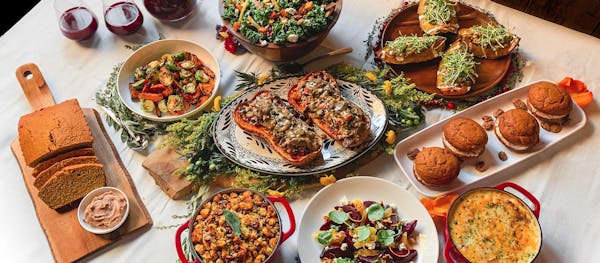 Feast For Four ($130) & A La Carte
Pickup Only | Wed. 11/25 & Thurs. 11/26
Thanksgiving is one of Chef José Andrés' favorite holidays, a special day that gives us the opportunity to share a delicious meal and our gratitude with the ones we love. This Thanksgiving, Beefsteak Chefs John White and Kisha Marshall have created a festive veggie feast for four, celebrating the rich traditions of American cooking and the bounty of our farms. Each dish highlights the best produce of the season and the comforting flavors of the season, each letting the vegetables be the star.
Available for pre-order for pick up from our GWU location Wednesday, 11/25 and Thursday, 11/26, the Vegetables Unleashed Thanksgiving Feast for Four ($130), includes a Stuffed Butternut Squash with Mushroom Gravy, along with four sides and a 64oz. house-made juice of your choice, four Pumpkin Whoopie Pies and Pumpkin Breakfast Bread for brunch the next day. All dishes are available a la carte as well.
Vegetables Unleashed Thanksgiving Menu
ORDER NOW
Feast for Four - $130 | A la carte Pricing Below
Main
Stuffed Butternut Squash w/ Mushroom Gravy $26 (G/V/N) Whole Roasted Butternut Squash Stuffed with Wild Rice Pilaf, Roasted Veggies, Dried Cranberries and Pecans. Served with Mushroom Gravy.
Sides
Roasted Beets With Citrus And Goat Cheese $14 (D/N)
Roasted Beets Marinated in Sherry Vinegar and Citrus with Orange Segments, Goat Cheese, Watercress, Toasted Walnuts and Extra Virgin Olive Oil
Family Size Apple-Y Ever After $22 (E/N/D)
Kale, Roasted Butternut Squash, Honey Crisp Apples, Goat Cheese, Dried Cranberries, Roasted Pumpkin Seeds, Pumpkin Spiced Pecans, Maple Apple Cider Dressing
Corn Bread Stuffing $14 (D/N/E/G)
Baked House Made Cornbread with Onion, Celery, Dried Cranberries, Apple, Fresh Herbs and Pecans
Potato Au Gratin $16 (D)
Potatoes Baked in a Garlic Cream Sauce Topped with a Trio of Cheeses
Fall Roasted Veggies $14 (V)
Brussels Sprout, Sweet Potato and Carrot with Fresh Herbs
Roasted Acorn Squash With Chickpeas & Pumpkin Seed Chimichurri $24 (D)
Roasted Acorn Squash Topped with Cilantro Sautéed Chickpeas, Pumpkin Seed Chimichurri, Garlic Yogurt Sauce and Pea Shoots
Beverages + Baked Goods
House-Made Juice, 64oz $10
Lavender Lemonade Or Apple Beet Ginger
Pumpkin Whoopie Pie, 4 Ct. $12 (E/N/D)
Soft Baked Pumpkin Spice Cookies with Candied Pecan Cream Cheese Filling
Allergens
N: Contains Nuts | E: Egg | V: Vegan | G: Contains Gluten | D: Dairy